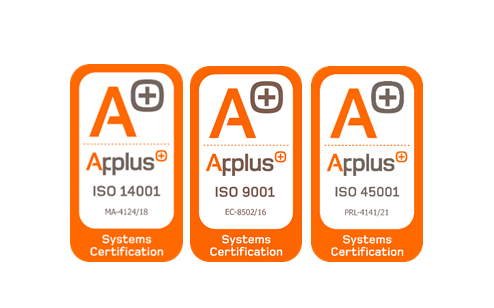 Axión obtains certification in the Occupational Safety and Health System
23 February 2021
Axión has obtained certification in the ISO 45001:2018. LOccupational Safety and Health System. The adoption of an OSH management system aims to enable an organization to provide safe and healthy workplaces, preventing work-related injuries and health impairment, and continuously improving its OSH performance.
In addition to this new certification, the scope of the Quality certification (AA+ ISO 9001:2015) has been renewed and expanded and the Environmental certification (ISO 14001:2015) has also been renewed.
All this, together with the first equality plan recently launched by the company, reinforces and renews our commitments to quality and ESG policies.
Commitment to our clients
The management of the company's activity and operations with the appropriate quality standards, as well as flexibility, transparency and credibility, are all essential parts of Axión's strategy.
 The A+ stamp of Quality is an additional guarantee of our commitment to the client, for whom we govern all our processes with high quality standards, always committed to continuous improvement, according to current legislation and the applicable regulations regarding quality of services.
The EN-UNE ISO 9001:2015 certification has been renewed, extending its scope to all the company's activities: terrestrial broadcasting of audiovisual signals and operation of telecommunications services, project design, telecommunications infrastructure management, implementation of critical networks and Smart and IoT solutions and platforms.
The corporate excellence to which we aspire is based on the systematic and quality management of all our processes and activities and we make every effort to ensure that this is the case.
Commitment to the environment
A guarantee of our commitment to sustainability and environmental management is the renewal of Axión's Environmental Management System certification, based on the  UNE-EN ISO 14001:2015 standard, which has again been awarded with the global scope of the company.
Our commitment to environmental respect, the use of clean energy and management efficiency have also led us in previous years to be leaders in European sustainability in the GRESB Infrastructure Assessment of the "Telecommunications" sector.
On the other hand, in a clear commitment to corporate social responsibility and full equality, we have launched our first equal opportunity plan for men and women: 20 measures that affect areas such as awareness, selection, training, promotion, health and work-life balance, which have already been registered with the Labor Authorities.
Commitment to people
People are the most important asset of our company. Protecting the physical integrity and health of our workers is a priority for Axión and an issue to which we are permanently committed, so all the work of our staff is within the framework of the prevention of occupational and professional risks.
Requested by Axión for the first time, we have obtained the ISO 45001:2018 Health and Safety certification covering all the company's activity globally.
---