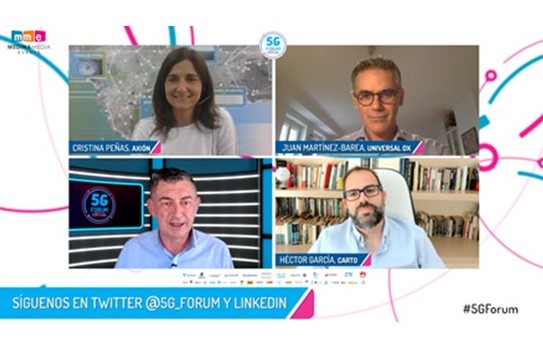 Axión Present in the 5G
10 May 2021
Axión sponsors the IV edition of the 5G Forum, a multidisciplinary event around 5G technology, which took place virtually last May 4, 5 and 6.
This event gathers the latest advances in 5G technology, addressing relevant issues in today's society such as the deployment of 5G, Smart cities and IOT, connected cars, health and telemedicine, emergency services or smart tourism.
Axión, has actively participated in the event, which included a presentation of its president, Jorge Alberto Jiménez, explaining Axión's involvement in 5G technology and with Cristina Peñas, Commercial and Business Development Director of Axión, who participated in the round table organized by the Seville City Council and FIBES, entitled "Sevilla & 5G Projects". Cristina unveiled the 5G projects that Axión is being approached within the city of Seville with the aim of positioning it as a pioneer city in the provision of infrastructures prepared for the deployment of 5G networks, such as the pilot project of small cell luminaires on Avenida de El Greco or Axion's participation in the plans strategic connectivity of the city.
---