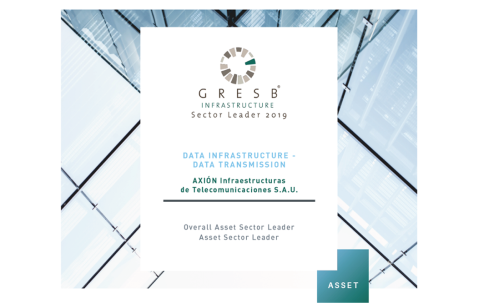 Axión, leader in sustainability
05 September 2019
Axión returns to obtain the leadership in the Evaluation of Infrastructure GRESB of the sector "Telecommunications".
Each year GRESB assesses and benchmarks the environmental, social and governance (ESG) performance of real assets worldwide and monitors progress towards global sustainability goals. GRESB Assessments are guided by what investors and the industry consider to be material issues in the sustainability performance. The GRESB Sector Leader Awards Program recognizes real estate and infrastructure companies, funds and assets that have demonstrated outstanding leadership in sustainability.
After this year's evaluation, Axión has obtained the 5 Star rating and the first position at European data infrastructure / data transmission / telecom tower company. This is the highest GRESB rating and a recognition for being an industry leader.
For us, it is an honor to be able to commemorate our 20th anniversary with a recognition of this magnitude, the result of the work and the importance that social, environmental and regulatory compliance actions have for the entire team in our Sustainability performance.
These results will be released at events around the world in September and October 2019. For more information see: GRESB Infrastructure.
---