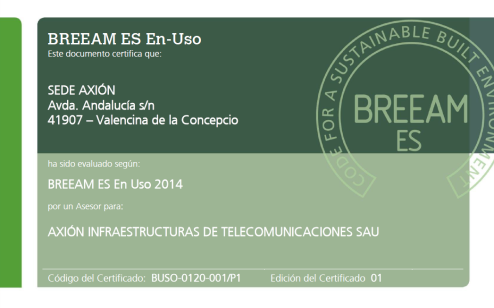 AXIÓN IS BREEAM CERTIFIED
21 January 2022
As part of Axión's solid commitment to the development of ESG policies, its headquarters in Valencina de la Concepción (Seville) has obtained the prestigious BREEAM certification in Sustainable Infrastructures.
Being the international sustainable construction certificate of reference, it promotes a beneficial construction for all the people linked to the life and use of a building, both in economic, environmental and social aspects, thus transmitting the values of Corporate Social Responsibility from the company to society in general.
BREEAM is the first organization worldwide oriented to construction research, having certified, since 1990, more than 591,000 buildings in 90 countries and being the only certification adapted to Spanish regulations and construction practices.
For its successful achievement, the technical characteristics of Axión's headquarters, its constructive approach and facilities, as well as its efficiency, energy, water and other consumption, and environmental impacts, such as carbon footprint and waste, have all been evaluated.
One more milestone in Axión's ESG culture.
---