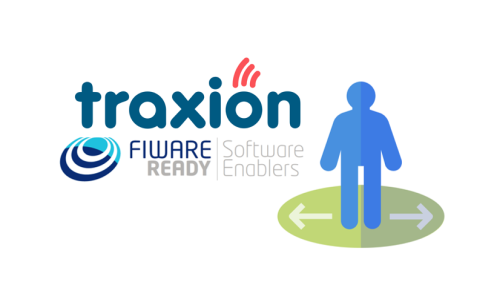 Traxión: how to monitor social distance in times of Coronavirus
22 April 2020
Axión's Capacity Control system becomes part of the Fiware solutions catalog.
Fiware, a platform promoted by the European Union for the development and global deployment of applications for the Internet of Things, has included Traxión, Axión's security vertical solution, in its market place, a meeting point between providers and customers of standards-based solutions.
Traxión controls entry and occupancy levels through non-intrusive sensors. It integrates with IP cameras with integrated video analysis and has an alarm system and generation of statistics on maximum, minimum, and average values ​​of the capacity in real-time. The alarms can interact with elements from other verticals such as lighting and sound, and even with the private emergency networks of the security forces.
At the current moment generated by the Covid-19 crisis, the value that this Spanish platform can bring is high: its ability to contribute to monitoring people and movements is a key aspect of the measures to be adopted in the future of in the face of the progressive lack of understanding of the population and the organization and maintenance of social distance.
Traxión, which has already been successfully tested in spaces of massive influx, closed and open, such as at Easter in Seville or Fitur, allows:
Count: number of people crossing a virtual line defined in the system.
Flow control: detection of a specific direction of movement and its speed, even in a crowd.
Detection of safety distance (social distancing).
Occupancy levels: detection of a level of agglomeration in a given area, both in open and closed areas.
Thermal detection (fever for access).
Identification of use of protection elements (masks).
Real-time data: transmitted to the system's administration platform at the moment.
Customizable presentation interface: storage, processing and presentation.
Its capacity of counting people distinguishes entrances and exits, movement of the crowd and individual and allows the management of queues and spaces, as well as the control of visits by day and time.
One of the advantages that Fiware highlights on its website of this solution is the possibility of connecting Video Analytics and Edge computing of your data to the Fiware environment.
The Fiware Marketplace goes to administrations and companies in search of certified technological solutions ("fiware ready").
Axión is a Fiware partner as an integrator of different projects developed in the IoT ecosystem. These include projects for Smart Cities in urban environments such as those dedicated to video surveillance infrastructure control, air conditioning control, meter control, irrigation and environmental parameters.
---