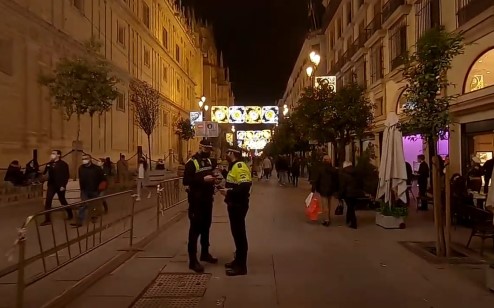 A Safe Christmas in Seville with Axion's IoT technology
22 December 2020
Our Traxión capacity and occupation density control system helps the Local Police and the Seville City Council to decide whether to close a street or divert the flow of people in another direction.
With 5 cameras with integrated analytics, located to cover the areas with the highest number of visitors in Seville (between the areas of Campana, Salvador, Sierpes, Plaza Nueva and Avenida de la Constitución) our Traxión capacity control system will monitor and obtain real time data on occupation density and physical distance during the next Christmas.
The IoT sensors on edge computing analysis will measure and alert when the occupation density is less than 4 square meters per person to put the area under surveillance. If the occupation drops to one person per 1.5 square meters, the protocol indicates to close the street and divert the influx flow.
Our cameras obtain real time data that allows emergency and security devices to make quick decisions in case of need. In the Seville City Council, where the Nagán management application is installed, the alarms of all the street cameras are consulted and visualized through a large screen, as well as the state of the degree of occupation at all times.
The Nagán Platform not only focuses on real-time analysis, but also offers the ability to perform subsequent statistical analyses:
–          Evolution of the capacity density: with data graphs with tools for the exploitation and possibility to export to different formats for processing.
–          Capacity density alarms: In traffic light format (green, yellow, red) for each of the areas analyzed.
The data obtained by Traxión through its automatic counting system based on non-intrusive capture sensors guarantees the confidentiality of the information collected: it is transmitted through the network including only numerical data and in no case any images of the spaces analyzed.
Thanks to the analytics developed by Axión on edge computing, its integration in the sensors themselves has been optimized, obtaining as a result a precise system for the control of gauging situations in need of flow control, as will be the case next Christmas in the Andalusian capital.
In addition to the individual responsibility of each person to make this Christmas as safe as possible to stop the coronavirus, Axión technology will help Seville to ensure social distancing at a key time for the evolution of this crisis.
Traxión has already been tested in numerous events of massive influx and in particular in Seville during successive security campaigns during the Easter Week in this city.
---