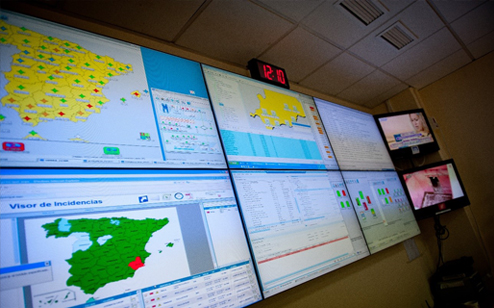 National Radio of Spain (RNE) renews the monitoring system of its network of broadcasting centers with Axión technology
25 February 2019
The system, which is part of the Axión IoT solutions catalog for radio broadcasters, allows RNE to monitor their broadcasting centers to ensure the highest quality and reception of FM and AM radio signals for their listeners.
Madrid, February 17 2019
In order to renew the monitoring system of its network of broadcasting centers that are spread throughout the country, RNE has entrusted Axión for the implementation of its new equipment monitoring software after a public tender process launched by the entity at the end of 2018.
The Axión system can meet the technological needs of the public body thanks to the extensive experience of the infrastructure operator in Radio Broadcasting and the flexibility of its platform, based on open standards.
Monitoring in real time
RNE will be able to monitor and trace its network in real time through the platform. This has a visual and intuitive control panel with geographic location and is color coded to identify the status of the monitored broadcasting centers and possible alarms.
It also offers access to plans, images, photos, with helpful information and operational instructions for troubleshooting.
Scalability and versatility
On the platform, multiple types of sensitized equipment are integrated, including transmitters, Automatic Switching System, satellite receivers, tuners, as well as data from third companies that provide the RNE broadcasting service. In addition, it will allow the incorporation of equipment acquired later in the case of renovations or new acquisitions, or changes produced in these.
The information stored by the software in logs allows the platform to prepare analyses and reports based on location, type of equipment, interval, duration and severity of the alarm, dates, etc.
The system allows the configuration of unlimited user profiles with different degrees of access and contains an incident management module (Ticketing) and generation of alarms via SMS and email.
The platform, which can be operated both from a PC and from mobile terminals, has no limitation in locations to be monitored or number of system users. And being housed in a Tier III data center, it ensures a minimum annual system availability of 99.95%.
Integral non-captive solution
It is worth highlighting the independence of the system, which allows RNE to carry out the operation of the system themselves. This is because the Axión platform is an integral and non-proprietary solution that avoids any type of captivity of equipment and even of the broadcast service provider.
In the cases in which Axión also makes use of the network to broadcast the service, it makes available to its clients web viewers of the platform that allow monitoring, with total transparency, of the service.
Cadena SER, KISS FM, Canal Sur Radio and CVMC (Communication of Valencia Media Corporation) are some of the radio broadcasters that have the Axión platform.
---