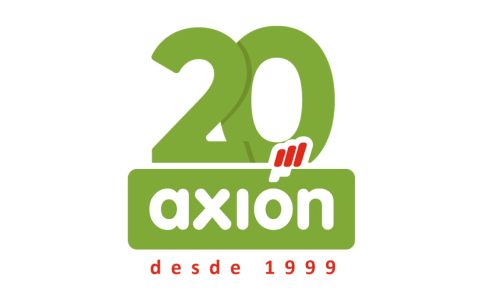 Axión, since 1999
24 July 2019
Axión commemorates its 20th anniversary with a meeting in which it analyzes its history and the company's future challenges.
On the occasion of the celebration of its 20th anniversary, Axión, a leading company in Spain in telecommunications services, brought together its staff, partners and friends at the Caixa Forum in Seville, the city where the company has its headquarters.
Jorge Alberto Jiménez, president of Axión, inaugurated the day with a review of the history of the company, which runs parallel to the history of telecommunications in Spain and Axión's clients.
Axión – Red de Banda Ancha de Andalucía – was created by Sandetel in 1999 in association with the TDF Group and the Unicaja and Cajasol Savings Banks. From its inception, it is worth highlighting its first project for the implementation of the broadcasting of radio and television signals from RTVA. In 2004-2005, it merged with Medialatina, a company of the national TDF Group that, also in 1999, arose mainly from the acquisition of the broadcasting network of Cadena Ser.
At present, Axión is part of AMP Capital, an industrial fund based in Sydney that participates in large infrastructures worldwide. Radio broadcasting, DTT, transport, collocation, critical networks, IoT solutions, etc. The current Axión, leader in the telecommunications infrastructure wholesale services sector, has maintained over the years its young, entrepreneurial spirit, based on the retention of talent and building strong teams.
In recent years, Axión has continued to grow and adapt to technological developments. In addition to developing new next-generation services, the Iberia Small Cell Networks and Axent companies have been created within the Group.
The celebration day for 20 years of Axión has been a unique venue to boost the enthusiasm and commitment of a company connected with its environment and innovation, and with any future development of telecommunications that is to come.
---