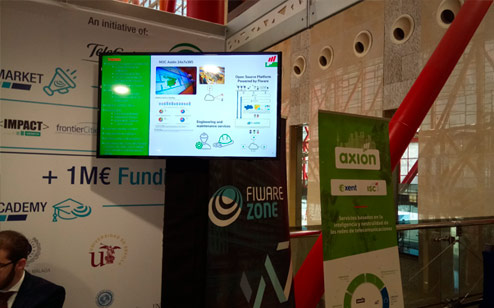 Axión showcases smart developments at Fiware Summit
29 November 2018
From 27 to 29 November, Málaga played host to the 5th Edition of the Fiware Summit. Organised by the Fiware Foundation, the framework of open source platform components, the event attracted more than 700 developers and customers of smart solutions from around the world.
Fully aware that the Internet of Things (IoT) is revolutionising productivity, efficiency and environmental protection, Axión provides unified platforms and portable open-source solutions to the connectivity technologies that are emerging in the IoT world.
A total of eleven companies, including Axión, took part as members of the Fiware Zone programme at the stand and in the activities held during the Fiware Global Summit held by the Fiware Foundation.
Axión is a partner of Fiware as an integrator of various projects developed in the IoT ecosystem. These include smart city projects in urban environments such as the video surveillance of infrastructures, air conditioning control, meter control, irrigation and environmental parameters (pollution, noise, etc.). The company is also involved in gauging control projects for closed-in sites or crowded areas, which were successfully tested during Holy Week in Seville in 2018 .
Axión also delivers specific vertical solutions in the rural environment, having developed projects that involve remotely managed devices to track wildlife and control wildfires.
Over the two-day event, the Fiware Summit featured talks on the blockchain of things, the data economy and smart city platforms, as well as meetings with universities involved in the circulation and application of Fiware technology.
---