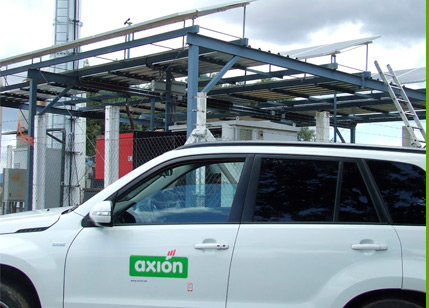 Axión promotes own-consumption of energy in its telecommunications centers
22 May 2019
We are reinforcing our commitment to environmental sustainability with the launch of 7 new photovoltaic installations for own-consumption for a total of 216 kW in Spain.
Axión, a neutral national wholesale operator of communication infrastructures, is an entity strongly committed to its social, economic, ethical and environmental performance, placing great importance on its impact on society.
With sustainability as our goal, we have taken a step forward to achieve photovoltaic own-consumption in all our telecommunication towers and base stations to optimize the energy cost.
After the good results of our pioneering self-consumption plant  in Valentina de la Concepción, we have signed a collaboration agreement with Enertika, an independent energy services group. With this agreement we will be launching another 7 photovoltaic installations for own-consumption that will generate 350 MWh of renewable electricity annually.
This is not our only commitment to sustainability and the environment. Due to the nature of our business, the environmental impact of the telecommunications centers distributed in urban and rural areas throughout the country becomes relevant.
Although it is an business activity that does not generate polluting emissions by itself, Axión is committed to complying with the environmental regulations in each area and pays special attention to its protection in the implementation of the centers in certain areas.
Also, in recent years, thanks to the awareness and renewal of fleets, our use of fossil fuels has been reduced by 25% and energy consumption has been reduced in all locations.
The fact that 97% of the electric energy consumed by the company comes from renewable energy sources is noteworthy, as certified by the Iberdrola supplier, a fact endorsed by the National Commission of Markets and Competition (CNMC).
---