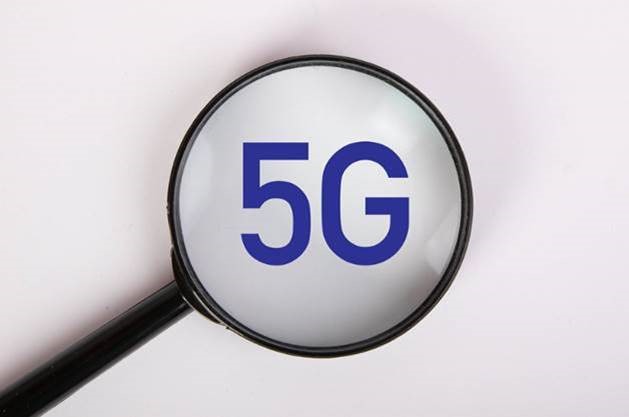 5G: safety and development
23 June 2020
In recent months, the debate on the effects of human exposure to radio spectrum waves has been revived. In view of the imminent arrival of 5G, from Axión we want to provide accurate and rational information, based on our more than 20 years of experience in this field, as well as on the scientific evidence provided by the extensive literature and research carried out by different organizations, both in the technological field and in the field of public health protection.
These sources conclude, after extensive reporting and use of data over the last few decades, that there are no observed adverse effects related to exposure to wireless technology. And, of course, that it has nothing to do with COVID-19, since viruses cannot travel through mobile networks. This hoax, which has spread in recent months, has led to a disconcerting mobilization of telecommunications infrastructure boycott groups across Europe.
Scientific evidence.
Scientific Advisory Committee Report "5G and Health". 13-02-20
This document concludes that, on the basis of the available scientific evidence, it can be expected that the foreseeable exposure levels with the advent of 5G technology will not change significantly and, in any case, will not exceed the maximum permitted limits with respect to electromagnetic emissions that guarantee public health.
Source: http://ccars.org.es/publicaciones/documentos-elaborados-por-el-ccars
WHO, 5G Mobile Networks and Health (27-2-20).
The World Health Organization (WHO) has published a document on its website in a "question and answer" format, in which it states that, to date and after much research, no adverse health effects have been causally linked to exposure to wireless technologies", while specifying that "health-related conclusions are drawn from studies conducted across the entire radio spectrum, but, so far, only a few studies have been conducted on the frequencies that 5G will use". Source: https://www.who.int/news-room/q-a-detail/5g-mobile-networks-and-health.
The same agency (WHO) states that "viruses cannot travel on radio waves/mobile networks. COVID-19 is spreading in many countries that do not have 5G mobile networks. COVID-19 is transmitted through respiratory droplets when an infected person coughs, sneezes or speaks. People can also become infected by touching a contaminated surface and then touching their eyes, mouth or nose."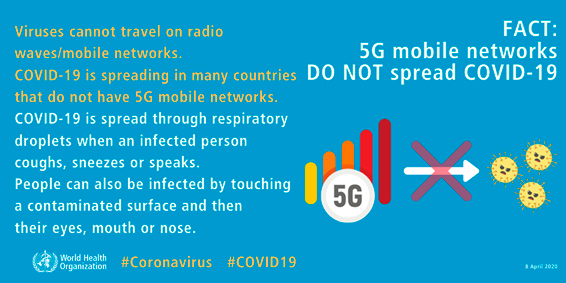 Source: https://www.who.int/emergencies/diseases/novel-coronavirus-2019/advice-for-public/myth-busters
Regulatory framework in Spain
The objectives of the Spanish regulatory framework include the adoption of health protection measures for the population, establishing limits on the exposure of the general public to electromagnetic fields from radioelectric emissions and establishing mechanisms for the regular monitoring of compliance with these limits.
Axión actively participates in the monitoring of compliance with the regulations in force, in accordance with the procedures established in Order CTE/23/2002, of 11 January, which is compulsory for radio communication service operators. It maintains a periodic control of the levels of electromagnetic exposure in the surroundings of its sites, collaborating with the holders of rights of use of the radioelectric public domain in their obligation to present, in the first quarter of each calendar year, a certification issued by a technician qualified in telecommunications, declaring that the exposure limits established in the regulations have been respected during the previous year in neighboring areas where people habitually stay.
Thanks to these annual certifications, Axión maintains control over the levels of radio exposure around its sites, verifying not only that the limits established in the regulations are met, but also that the levels measured are well below those limits.
These activities are established taking as a starting point the Spanish regulations on exposure to radio emissions of the general population, which are based on the regulations that establish the conditions of protection of the radio public domain, restrictions on radio emissions and health protection measures against radio emissions, as approved by Royal Decree 1066/2001 of 28 September, in addition to other regulations that expand on and complement it, such as the Regulation on the use of the public radio domain, approved by Royal Decree 123/2017 of 24 February, and Order CTE/23/2002 of 11 January, establishing conditions for the submission of certain studies and certifications by operators of radio communication services.
This regulation transposes into Spanish law the European Union criteria established in Recommendation 1999/519/EC of 12 July 1999 on the exposure of the general public to electromagnetic fields from 0 Hz to 300 GHz. This European recommendation, in turn, is based on the scientific guidelines established by the International Commission on Non-Ionizing Radiation Protection (ICNIRP), derived from studies of exposure to electromagnetic fields. The ICNIRP established the international standards, included in the above-mentioned European recommendation, which are supported by the World Health Organization (WHO), the leading international institution guaranteeing health.
Further research.
However, the European Union, in recent reports, suggests the need for further research on beam concentration in 5G technology with interdisciplinary teams. The determination of compliance with the limit values will be carried out with new methodologies under development, which makes further research necessary on the possible negative biological effects of electromagnetic fields (EMF) and 5G, in particular on the incidence of some serious human diseases, by bringing together researchers from different disciplines, in particular medicine and physics or engineering, to carry out further research on the effects of 5G. Source: (https://www.europarl.europa.eu/thinktank/en/document.html?reference=EPRS_BRI(2020)646172)
Finally, the ICNIRP, the leading international experts in this field, indicate on their website that the human body has the capacity to adjust its internal temperature within a wide range and that compliance with the limits would imply being protected, although they will closely follow any research on this subject. Source: https://www.icnirp.org/en/applications/5g/index.html
---