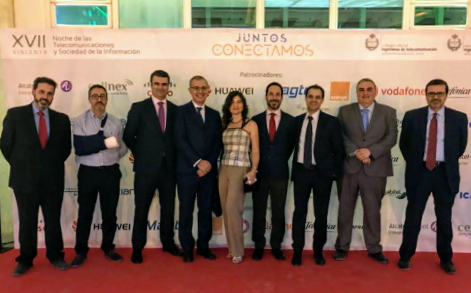 Together We Connect, Axión Night of Telecommunications
07 June 2019
On June 6, the XVII Night of Telecommunications and Information Society was held in Seville, a leading event in the Andalusian ICT sector organized by the Association of Telecommunications Engineers of Western Andalusia (ASITANO) with the special collaboration of the College of Engineers of Western Andalusia and Ceuta Telecommunications (COITAOC).
For one more year, Axión has participated as promoter of this meeting, being present, together with more than 400 professionals and representatives of companies, entities and institutions in the field of telecommunications and innovation.
Under the slogan "Together We Connect", the importance of establishing synergies between companies, entities and active agents of the sector for technological, economic and social growth has been valued, with this event a mandatory opportunity for it.
At the same event, the "Andalusian Telecommunications Awards" in the categories of 'Excellence in ICT', 'Innovative Initiative' and 'Professional Career' were made in recognition of the work of different people and entities in the sector.
---