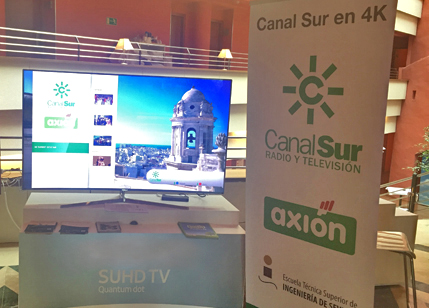 Canal Sur and Axión broadcast in 4K quality
20 June 2017
Broadcasting, in a test phase, is done in an open access mode, giving coverage to the whole city of Seville.
Since last April 25th, Canal Sur is broadcasting through DTT a serie of three complete documentaries about El Rocío, Easter and Carnival with Ultra High Definition quality (UHD-4K).
The broadcast is maintained from the Axión – emitting center in Valencina de la Concepción (Seville), on channel 43, and can be tuned from any point in Seville capital with a TV with DVB-T2 and 4k Ultra HD tuner. In addition, if the equipment is compatible with HbbTV, you can also enjoy these contents and an additional documentary about Flamenco, through the application HbbTV, able to play 4K content.
---