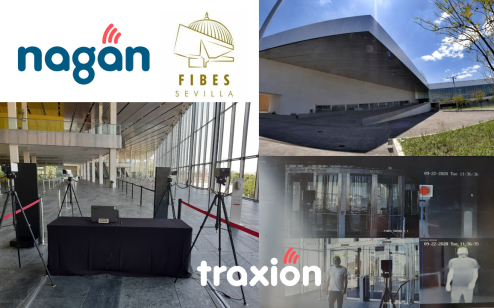 Axión's "Smart&Safe" solutions against Covid, present at Seville's Congress and Exhibition Centre (FIBES) for the awarding of the City Medals
06 October 2020
Smart&Safe are safety solutions based on Axión's  intelligent IoT technology.
Thermography cameras for automatic counting of people and flow control, measurement of social distancing, temperature detection, identification of mask use, generation of alarms and warnings in real-time, etc.
This is how public events are in the new normality, the safest and most effective way to organize them, with all the recommended measures to prevent the spread of the coronavirus. Our clients do this thanks to the Smart&Safe functionalities of the solutions of our safety vertical, which, among others, carry out the measurement of body temperature through cameras with advanced intelligence or the detection of masks.
This is the case of the event held last September 23 at the Congress and Exhibition Center of Seville (FIBES) for the awarding of City Medals with strict security and protection measures. There we installed thermography cameras with the development of integration of Axión video analytics to take the measurement of body temperature in real-time within a range of distances between 1.5 and 3 meters with very high precision (± 0.3 ºC) in addition to the detection of mandatory protective elements (masks). It should be noted that Smart&Safe performs group scanning with high efficiency that supports simultaneous temperature detection of up to 30 people.
The Smart&Safe solutions incorporate great advantages over other technological solutions: the temperature measurement is safer than with other procedures since it is done at a distance, without direct contact with people and in a faster way (one second per person). In addition, AI technology ensures that thermography cameras only detect human skin surface temperature to reduce false alarms from other heat sources. Thanks to the compensation algorithm the temperature is contrasted with the ambient temperature and the distance to the measured target for better accuracy.
All of this is added to other features of our Traxión solution, such as the control of the entrance and occupation level through non-intrusive sensors and IP cameras with integrated video analysis. The system has alarms and generates statistics on maximum, minimum and average values of the capacity in real-time. The alarms can interact with elements of other verticals such as lighting and sound, and even with the private emergency networks of the security forces. The cameras are integrated into the Nagán Horizontal Platform, which records all the alarms received, in addition to generating reports and the ability to consult historical data.
Smart&Safe solutions have the capacity to be implemented in different spaces such as shopping malls, industries, theaters, airports, etc., collaborating with the measures taken to prevent contagion and allowing access to these spaces in a safe manner. Its capacity of counting people distinguishes entrances and exits, crowd and individual movement, and allows the management of queues and spaces, as well as the control of visits per day and hour.
---