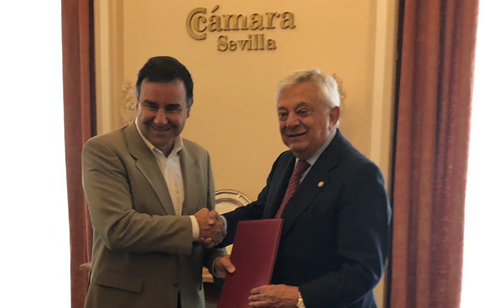 Axión will collaborate to include new Certification Systems associated with Intelligent Security
23 July 2019
Chambers of Commerce Warrantee and Axión have signed a Collaboration Agreement whose objective is the development and promotion of a Guide for Certification of Intelligent Security Systems, which is intended to encourage the use of state-of-the-art technological solutions in the field of security and the protection of lives and property.
Axión will make available to entities wishing to certify their facilities, all their experience, and that of their partners and collaborators in the design, implementation and maintenance of advanced security solutions in relation to all the services offered:
–          Radio Emergency Communications.
–          Intelligent Telecommunications Infrastructure and Networks.
–          Unified management platform.
Axión is a specialist in the design and integration of control systems in standard systems, providing unified platforms and open and portable solutions to the different connectivity technologies that are emerging in the world of IoT and Smartcities. This support experience will be transferred in the drafting of the requirements that must be met in each of the technologies of these systems in order to obtain the Chamber's SI-System Warrantee certification.
---