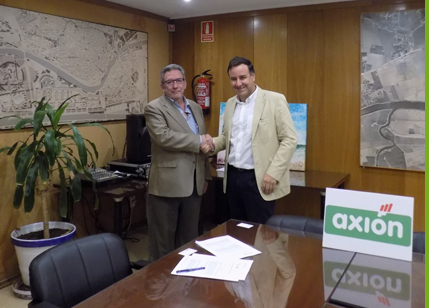 Axión signs an agreement with the Town Planning Department of the Seville City Council for the implementation of a "Small Cell" mobile telephone station
06 June 2019
Seville will thus be at the forefront of new technologies for a more sustainable city model with efficient management of the municipal telecommunications infrastructure.
The Town Planning Manager of the Seville City Council, Ignacio Pozuelo and the Executive President of Axión, Jorge Alberto Jiménez, formally signed a Collaboration Agreement for development of work to implement a mobile telephony station in Avda. de El Greco with services provided by a Smart city.
Specifically, Axión will develop a pilot Project for the implementation of a "Small cell" mobile telephone station. This will be implemented on the basis of a streetlight infrastructure adapted to house the telecommunications equipment necessary for the provision of these services.
Considering the integral transformation operation carried out recently by the Seville City Council on Avda. de El Greco, the object of an ambitious sustainable redevelopment project, this important communication channel for the San Pablo Industrial Park has also been chosen for the development of this new facility, thus completing the transforming project carried out, since it will provide better telecommunications services to the entire area.
The "Small Cells" will provide a better mobile service, offering connections of better quality and greater speed, ensuring a superior experience when browsing with a mobile, tablet or PC for the inhabitants in the environment and the citizens who pass through the zone, and WiFi services for citizens.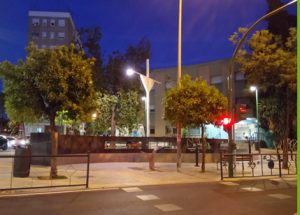 This system also allows the installation of closed circuit television in the streetlights, providing the area with greater control and security, as well as sensors for the collection of environmental information of interest to the City Council such as noise levels, temperature or pollution levels, amongst others. This pilot project will also serve as a model for the deployment of future 5G networks of mobile operators.
Thus, the elements that will be provided to the streetlights in the El Greco neighborhood are
– Small cells.
– WiFi access.
– CCTV camera.
– Environment sensor system.
– Lighting.
With the implementation of technological services like that which is going to be experienced in Avda. de El Greco, Seville demonstrates its firm commitment to new technologies and to being at the forefront of the "Smart city".
Axión, as a neutral telecommunications operator, provides loT and Smart city answers, providing solutions for both infrastructures and applications. With extensive experience with the City of Seville, it has already carried out technological projects in the city, such as remote management of security cameras for use of the operational services provided in the Specific Coordination Plan for Easter 2019.
Axión is a specialist in the design and integration of control systems in standard systems, providing unified platforms and open and portable solutions to the different connectivity technologies that are emerging in the IoT world.
---