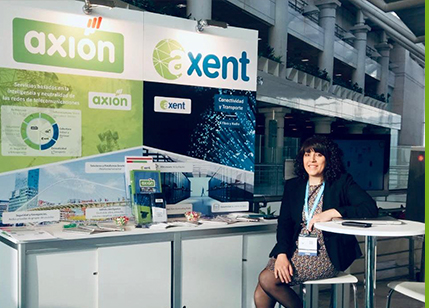 Axión presents its services, applications and connected infrastructures at ASLAN 2019
04 April 2019
One more year, Axión has participated as an exhibitor and speaker at the ASLAN 2019 technology fair, the great annual event of the Association of network, internet and telecommunications systems providers, centered on digital transformation.
The focus of this edition was to learn about the latest technological innovations and how to transform organizations, the great challenge in the new digital era: Cyber security, WiFi, hybrid infrastructures, data centers, communications, advanced analytics, etc., all connected.
In addition to the stands of Axión and Axent in the exhibitor section, Álvaro Abascal Blanco, head of public sector of Axión, gave a lecture on "Safe City, integration of security systems, networks of critical services and smart devices."
For his part, Javier Toledo introduced our new subsidiary Axent, the new wholesale operator of telecommunications transport for fiber and radio infrastructure.
In this edition, more than 7000 visitors and 100 companies of the ecosystem that is contributing to accelerate Digital Transformation, were able to meet and share experiences on security, analysis and integration of cloud services.
The Association has announced that it is already working to celebrate ASLAN 2020 on March 11 and 12 next year as well as on other activities to bring technology to large and small organizations.
---