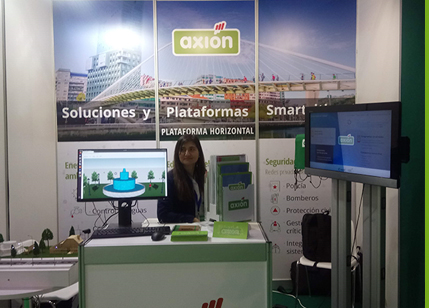 Axión presents in the Greencities Forum its solutions for smart and efficient cities
29 March 2019
On March 27 and 28, the Greencities Urban Intelligence and Sustainability Forum took place in Malaga. With more than 3,000 registrations of a thousand public and private entities, this tenth edition has become a benchmark for networking and innovation.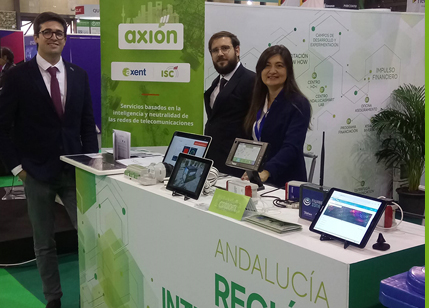 It has made clear the potential of ICT, connected devices thanks to the Internet of Things (IoT) or the development of 5G, for more efficient and sustainable urban management.
As Axión, we have actively participated, presenting our services and solutions for Smart Cities. At our booth in the Extenda (Trade Promotion Agency of Andalusia) area, which simulated a park with smart lighting, we unveiled our integrated solutions for security, lighting, smart buildings, water, industry, etc. with live demonstrations of alarm management through vertical integration.
In addition, María Antonia García Tomé, Marketing Manager of Axión and Armando Cabral, Project Manager of IoT Services, presented our Smart City Solutions applied to security on multiservice platforms.
An example is our Traxión platform, which we have already successfully implemented in major events such as Easter in Seville. Traxión allows an automatic capacity control system that enables Administrations and Building Managers to control properties for leisure and events or spaces with a large influx of people.
During the Forum, we participated jointly with the trade mission of the Andalusian Agency for Foreign Trade Promotion, and with the FIWARE area of the Regional Government of Andalucía.
---