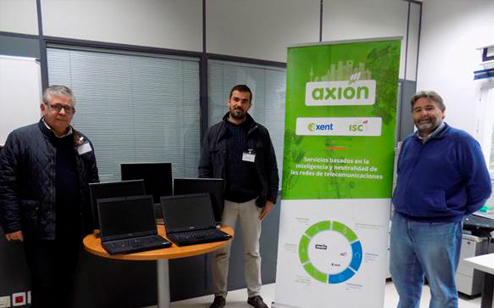 Axión delivers computer equipment to Al-Iscar secondary school in Villanueva del Ariscal
15 December 2018
Part of company's corporate social responsibility activities.
On 14 December 2018, Axión delivered computer equipment to the Al-Iscar secondary school in order to help with the students' education. The donation was handed over at our head offices in Valencina de la Concepción, Seville.
As part of our sustainability strategy, each year Axión plans actions to foster cooperation with groups related to education, health and social action.
On this occasion, we responded to the request of the Al-Iscar state school in Villanueva del Ariscal to replace computer equipment that had been made obsolete due to new equipment introduced at the school.
Throughout 2018, Axión collaborated on a financial front with NGOs such as UNICEF, through a Christmas card campaign, while it also holds agreements with various universities and training schools across Spain.
What's more, Axión collaborates with the government and academic institutions in the implementation of the educational system by providing internship places to students following vocational training courses and to undergraduates or graduates from Spanish and foreign universities.
There have also been educational visits to universities and secondary schools to promote the vocation for jobs related to new technologies.
---