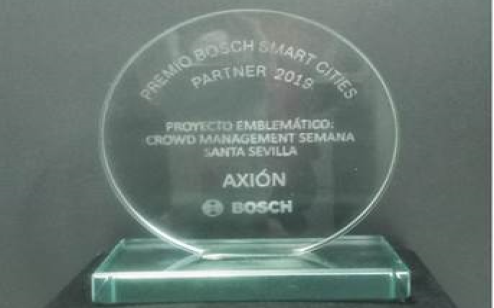 Axión, awarded by Bosch Security Systems as a flagship partner
24 October 2019
Bosch Security Systems, Axión's key partner in IoT-based security systems projects, has recognized the importance of our company as a flagship partner in the First Edition of the Bosch Product Introduction Day.
The award was presented on October 8 at a gala in which, in addition to publicizing the latest innovations of the German company, the flagship project developed by a Bosch partner company was awarded, in this case, to Axión.
The chosen project was the implementation of the Axión vertical security, which is integrated into the family of Smart and IoT platforms and solutions, in the specific coordination plan for Easter Week 2019 of the City Council of Seville. This vertical system facilitated the remote management of security cameras for use of the planned operational services. In the operation, the Traction security system, the Axión vertical security vertical service, was deployed on 17 Bosch video surveillance cameras with embedded video analytics. With these, it was possible to offer real-time information on the influx of people, virtual seats, and detection of speeding bodies and heavy vehicles in pedestrian areas.
The Spanish Easter Week security project incorporated the Smart City Axión platform for intelligent crowd management, collecting information from cameras and parking sensors to later process the counting, alarms and occupation data and send them to the infrastructure of the Seville City Council, responsible for managing the rest of the subsystems such as public lighting, public address or emergency messaging.
The Bosch Product Introduction Day 2019 took place at THE CUBE in Madrid, a technological hub specialized in IoT and innovation.
---