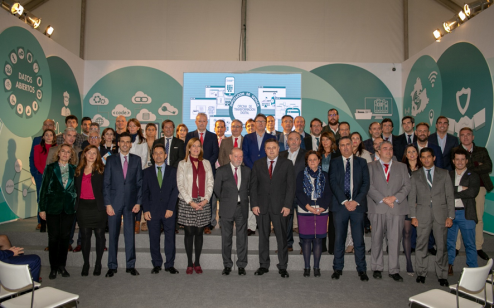 AXION AT THE APPOINTMENT WITH THE NEW DIGITAL CHALLENGES
12 December 2019
Axión participated in the VI Seville`s Deputation Innovation and New Technologies Fair
The meeting, which was held on November 27, 28 and 29, was organized through INPRO, Provincial Information Society, that belong to the Seville`s Deputation.
In this edition, there have been more than 30 companies in the ICT sector to present their novelties aimed at the development of Digital Transformation of Companies and the Public Sector, Electronic Administration, Cybersecurity and BigData.
Axión showed how its IoT services can turn the towns in the province of Seville into smart cities and smart municipalities and how their HbbtV services for DTT can bring content of interest to the citizen, through television.
The IoT services were shown in a Smart Citiy model where, from a horizontal platform, public elements such as luminaires and water sources were activated and deactivated remotely, the control of consumption meters, and management of the intrusion alarms were detected through a camera programmed for it. Video
Canal Sur,  demonstrated how to access from a Smart TV set special interactive content and applications, of interest for the Deputation of Seville and for the citizens of the province, using an application developed by RTVA in collaboration with Axión, on its Hbbtv platform. Video
The Fair, in addition to being a meeting point to share knowledge between public administrations and the business sector, aimed to bring science and technology to youth, by contacting a program aimed at young people and professions of the future.
---