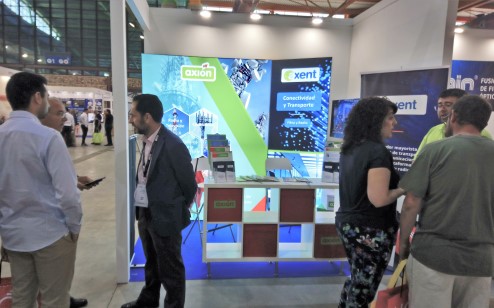 AXIÓN AND AXENT, TOGETHER BUILDING THE FUTURE
01 June 2019
On May 30 and 31, the XIII Technological Fair of AOTEC, the National Association of Telecommunications Operators, took place in Malaga, under the slogan, "Together, Building the Future."
This event has become one of the reference meetings for local telecommunications operators and for the main providers of network infrastructure, content and services in the country.
Axión and its subsidiary Axent participated with a stand where they have been able to serve the audience and the more than 100 participating companies, including clients, partners and friends, and where they have been able to showcase their most innovative services.
Axión has presented its catalog of services in the field of intelligence and neutrality of telecommunication networks: Broadcasting of FM Radio and DTT, Infrastructure Management, Datacenter, Platform and Vertical Solutions of IoT, and Emergency Networks, all complemented by 24×7 Service, Maintenance and Operation.
While Axent, as a neutral telecommunications transport infrastructure operator, has shown its services nationwide, in the Backbone, Backhaul and Access segments, for rental of dark fiber, interconnection of data centers and capacity services on optical fiber, complemented and integrated with radio links in the areas that require them.
---