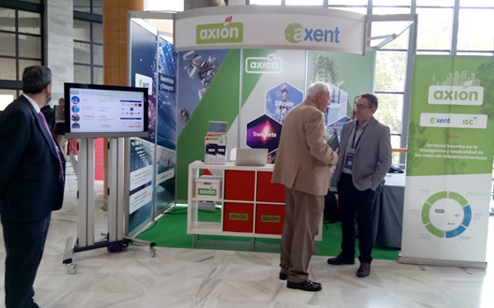 Acutel 2018. Connected with excellence
22 November 2018
34th Technological Fair of the Association of Andalusian Telecommunications Operators again proves to be benchmark for operators across Spain.
The 2018 edition of ACUTEL at the Palacio de Congresos in Granada featured a total of 120 stands belonging to almost a hundred companies.
Axión, as a national wholesale operator of telecommunications infrastructures and services, took part in the fair as an exhibitor and presented its new subsidiary, Axent.
AXENT is a brand new neutral operator in the backbone, backhaul and access segments, providing dark fibre services and point-to-point circuits. This is all on its own network that currently exceeds 4,600 km of backbone fibre optics and 300 radio links over urban and rural telecommunications hubs.
ACUTEL attendees also learned about Axion's co-location services for equipment on its own network with more than 600 locations, the broadcasting and transport of audiovisual signals, 24×7 maintenance and operation, engineering and consulting.
Thanks to the excellent organisation, the event provided ACUTEL partners and companies with a single space to exchange industry developments and services.
---