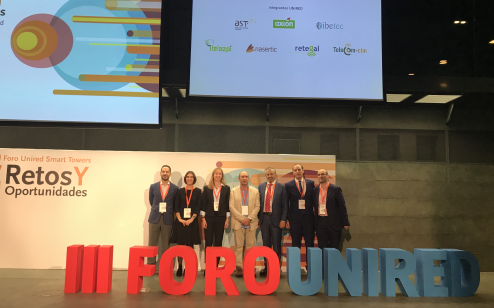 5G Challenges and Opportunities
30 October 2019
Axión in the III UNIRED Smart Towers Forum that was held on October 17 in Madrid, under the slogan 5G Challenges and Opportunities.
The event brought together a number of experts from the telecommunications sector, looking forward to discovering and learning about the technological advances related to 5G that will revolutionize the world as we know it.
Cristina Peñas, Business Development and Innovation Manager for in Axión, and speaker at the round table on "Marketing of 5G services: impact on the development of IoT", highlighted in her speech that the technical capabilities provided by 5G will allow, in addition to new applications that demand minimal latency and high bandwidth, the massive development of the initiatives that are currently being tested in the field of both Smart Cities and industry.
During the event, topics such as the strategic role of infrastructure, the 5G technology ecosystem, or the impact of new services on the development of industries and administrations were also discussed.
In addition to the UNIRED member companies, AST, Axión, Ibitec, Itelazpi, Nasertic, Retegal and Telecom-CLM, the Forum has Vodafone and Telxius as partners and Cellnex, Nokia, Motorola Solutions and Televes, as collaborators. 
---