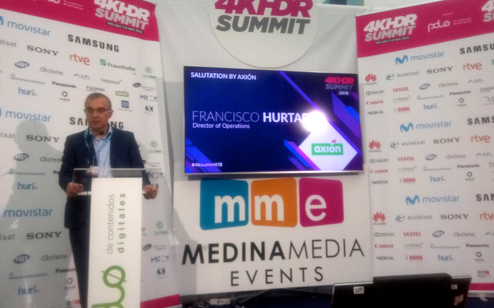 Axión takes part in Málaga 4K Summit, the world's leading 4K and UHD event.
08 November 2018
The 4K-HDR Summit 2018 attracted experts, companies and engineers from twenty-plus countries to Málaga's Digital Content Hub for this event held on 7 and 8 November.
Francisco Hurtado, Technical Director of Axión, was in charge of opening the second day of the trade fair. During his speech, he shared the experience of Axión in the first ever regional 4K broadcast in Spain, which coincided with the Horse-Drawn Carriage Exhibition in Ronda.
Axión, leader in Andalusia in innovation projects for DTT, has since 2016 been working with Canal Sur on various pilot initiatives to transmit ultra-high definition content.
The fourth edition of the 4K Summit reinforced its position as the global benchmark event in this field, with twenty talks and seven panel discussions in which leading experts delivered reports, proposals and views on 4K-HDR technology. Attendees were also able to see live images of NASA's 4K channel.
Artificial intelligence, connected TVs, UHD music and the evolution of these technologies were the focal points of the panel discussions made up by representatives from the audiovisual industry's leading public and private companies.
Axión is the official sponsor of this summit as a whole and also of one of the networking and product demo spaces.
---