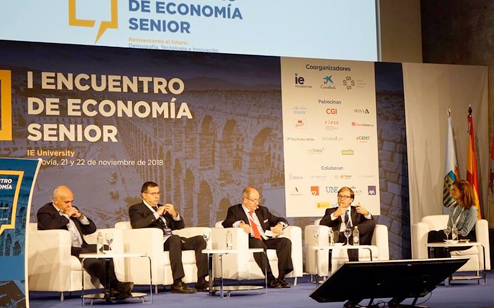 Axión attends first ever Senior Economy Forum
22 November 2018
On 21 and 22 November, the IE University (headquarters of the Instituto de Empresa in Segovia) hosted the first Senior Economy Forum, which was attended by Axión.
The event discussed how to disruptively address the current demographic challenge by applying innovation and technology from an inclusive approach.
In the panel on technology and infrastructures for the welfare state moderated by Benigno Lacort (Chairman of the Senior Economy Forum), Cristina Peñas, Head of Engineering at Axión, shared the vision and contribution of Axión as a neutral manager of infrastructures and technological solutions in the challenges and opportunities presented by this age group.
The experts also analysed issues related to generational diversity, the employment law framework, the demographic dividend, depopulation, the application of artificial intelligence and infrastructures, and the impact on the health system, the financial market, insurance, tourism or home care.
The Forum, organised by Segovia City Council, the IE Foundation, CaixaBank and the Senior Economy Forum, was officially opened by the Spanish government's Commissioner for the Demographic Challenge, Isaura Leal.
---